HubSpot: waiting for Q3 results
HubSpot provides a cloud-based inbound marketing and sales software platform for businesses, we've already reviewed the company from the same field - Shopify. The field of sales software and marketing automation is really hot, all the companies tries to get the highest conversion and and an extra client from each campaign. Despite the fact that most of analysts predicts the bubble crash in such fields, I assume that everything depends on a particular case. 
HubSpot's stock price is around 70% higher than the IPO price. The stock traders and investors believe in this stock however HubSpot's EBITDA dropped down to -$52M (negative). 
<!== INSTRUMENT %% %1440% ==!>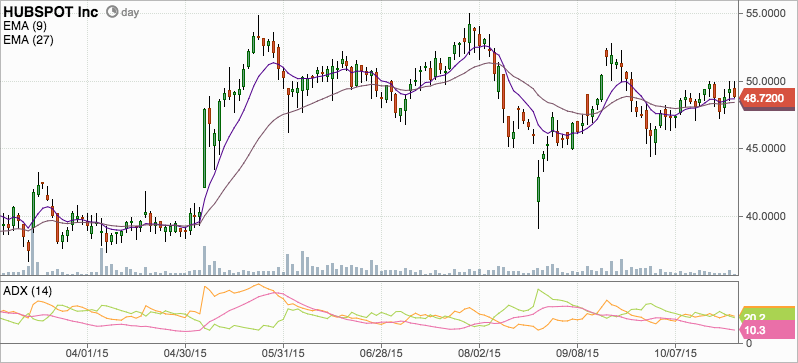 Key operating and financial metrics
According to the latest information (Q2 results) HubSpot increased the number of clients from 13,807 as of December 2014 to 15,839 as of June 2015. This is the positive dynamic, the company's growth rate in the number of clients was around 35% in 2014 and I assume it will be around 30-32% this year. 
Average revenue per account (customer) was around $7,814 in 2014, moreover as of June 2015 it was around $4,685 (+15.42% y-o-y growth). I think that the company will be able to increase its ARPA growth rate this year. The company achieved this ARPA growth by several product improvements this year: LinkedIn Sponsored Updates and Google's AdWords campaigns can be managed through HubSpot, measure the success of ad campaigns and other important things. 
HibSpot decreased the marketing and sales expenses as % of revenue from 70% as of June 2014 to almost 68% as of June 2015. However, the customer acquisition cost increased by just 3%. The company increased the product development expenses from 20.42% of revenue to 21.10% and I think that this is the most efficient example of significant product development and low cost base increase. 
Summary
HubSpot's business looks interesting, the company increased its operating and financial results. However, the company is far from positive margins, so I think that it's slightly over-valued now and it's too risky to buy it now. We need to check the Q3 results, as for me, I will check all the HubSpot updates.