Pandora: All Or Nothing Game
Pandora is a music streaming app. You might think that this sector is too tough to make money - Apple Music, Spotify, some smaller players. Pandora showed some great numbers in 2015, however, Q1 FY2016 was below the estimates. I won't review the competition in this field - you can find lots of information around the web. I'd better show you some numbers behind the Pandora's reports. Let's check what we should be waiting for ahead of earnings. 
Q2 FY2015 results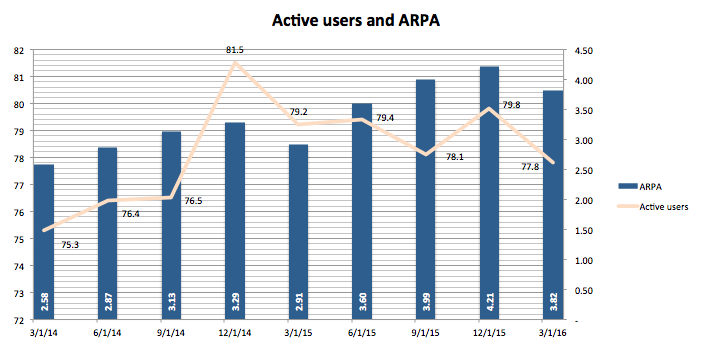 I will use this graph to show the most important metrics for Q2 FY2015 and Q1 FY2016.
During Q2 FY2015 Pandora provided double-digit revenue growth. The most important numbers for such companies as Pandora (mostly software, streaming services) are their unit-economics metrics. According to the company's information, Pandora made a huge step forward in Q2 because they reached $1.2 operating income per one active subscriber. 
Pandora isn't showing a tremendous subscriber base growth, they put all their efforts to monetization. Pandora's management thinks of business efficiency as of now, which is really important whether you are an institutional or private investor. The company is steadily increasing their marketing expenses and cost of content acquisition. Q2 FY2015 was almost an ideal quarter for Pandora Media:
revenue +24% q-o-q (compared to the previous quarter);
cost of revenue +6% q-o-q;
operating expenses +11% q-o-q;
It helped them to increase gross profit per active subscriber by 53% and decrease all the operating expenses per user. 
Q1 FY2016 results
If we can say that Q2 FY2015 was close to an ideal quarter for Pandora, Q1 FY2016 is really close to the worst one since they reached an operating breakeven per active subscriber. Pandora media reported the following numbers:
revenue +29% y-o-y;
cost of revenue +45% y-o-y;
operating expenses +46% y-o-y.
If Pandora keeps the same pace they will most likely start losing money per one subscriber. The company was really close to its breakeven in FY2015. I even thought that they might be able to reach this breakeven in 2016, but it doesn't look like that. They will most likely have serious issues with financial and operating metrics this year. 
Traders paid too much attention to subscriber base drop - as we can see from the previous years, Pandora usually have this drop at the beginning of the year - you can see it on the graph above. 
Forecast
I assume that the company will show a small growth in subscriber base (or even no growth). Their subscriber base grew up in Q3 FY2015 just because of Ticketfly acquisition. Ticketfly had around 1.3M active buyers in Q4 FY2015 and 1.6M in Q1 FY2016. I assume that they can add 200k-300k more buyers in addition to Pandora's potential organic .3% growth. My core assumption regarding active subscribers is 79.4M-79.7M range.
As we can see from the graph, the company is steadily increasing the average revenue per one subscriber. Seasonal Q1 drop is usually followed by 3 quarters of growth. I don't think that Q2 FY2016 would be an exception, therefore my forecast regarding ARPA is $4.4-$4.7 range per user during a quarter. 
Taking into consideration ARPA and a number of active subscribers, we can calculate the revenue forecast. It will be around $350M-$375M. Calculation of the gross profit and operating income would be a little bit tricky, because as I've already mentioned Pandora's Q1 FY2016 wasn't the best one. 
Pandora significantly increased their gross margin in Q2 2015:
I think they will be able to show gross margin growth this quarter as well. It won't be that significant, but it will take place. If they reach around 2-6% gross margin growth, their gross profit would be around $112M-$135M. Operating income is negative, and I think it will stay below the zero, that's why I think we don't need to pay too much attention to this number. 
Conclusion
The market likes Apple and hence it likes Apple music, market likes Spotify as they like Netflix - lots of people use it. However, we don't pay attention to some real companies that at some point of time will reach a breakeven - Pandora reached it in unit-economics. However, there are some risks after their Q1 earnings report. I'd better play with volatility in this case - we all saw this Netflix drop after the earnings announcement. 
If Pandora reports subscriber growth and a significant revenue improvement, I'll consider them as a buy in long-term. Let's see what happens on Thursday after the closing bell.