Pure Storage: today's IPO
Pure Storage offers flash storage and software for other companies to use in their data centers. The company's products provide better performance than classical hard drives, however it's much more expensive. The company was valued at $3B during the last rounds in 2014, it means that the company had 70x revenue multiple. 
Let's check the operating and financial metrics and understand if the company has any potential. The starting price at the IPO is $17.
The company's number of clients is growing rapidly, mostly Enterprises. The solution and products are too expensive for the classic SMB. The number of clients grew up from around 30 in 2013 to 700 in 2014. As of July 2015 the company reported about 1100 clients. I assume that the company will continue this trend and will have around 1400 clients by the end of this year. 
Average revenue per account (unit, client)
Despite the fact that the number of clients is growing very fast, ARPA is growing as well. Companies usually have the opposite dynamic: rapid growth in customer base has a negative impact on ARPA. The company's ARPA grew up 13% in 2014: from $196K as of January 2013 to $221K as of January 2014. Moreover the growth rate is growing as well: 11% in 2013, 13% in 2014. However I assume that this growth rate will slow down to 5%. 
Customer acquisition cost
Customer acquisition cost decreased 6% from $324K in 2014 to $305K in 2013. The company has also decreased the marketing expenses as % of revenue: it was 176% in 2012 and reached 87% in 2014. I assume that the company will be able to reduce its marketing costs in future as well. 
According to all these assumption, my DCF model gave the following result: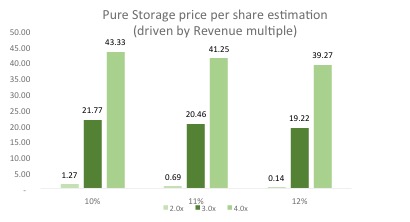 You can check the financial model as well here. I think that Pure Storage stock has a high potential.