Apigee: uncertainty with forecasts
Apigee Corporation develops a software platform that enables API based digital strategies and business insights for enterprises. The company issued its fiscal year report last week, so we need to check the company's progress and further opportunities. 
The company's stock lost almost 50% over the last several months (from the IPO date). 
<!== INSTRUMENT %% %1440% ==!>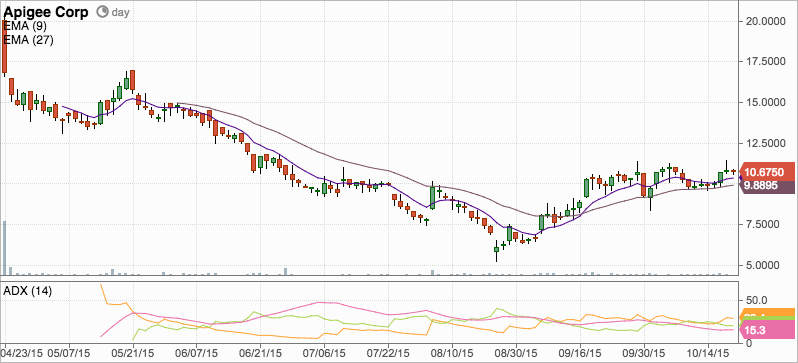 The Apigee's business model consists of several parts:
License - the company gets the revenue from providing the customized licensed software (the highest margins are here);
Subscription and support - the company has the cloud-based solution for the API management solutions;
Professional services - lots of software companies use the professional services and such kind of activities for lead generation (the lowest margins, sometimes professional services cost of revenue is higher than the revenue from it).
Operating and financial metrics
[Note: fiscal year ends July 31]
Number of paying customers is the most important part for the subscription and support services. The number of customers grew up from 127 clients in 2013 fiscal year to 207 clients in 2015. So 3-y CAGR is around 17% which is rather high growth rate. As soon as Apigee's software is focused on Enterprises, I think that this growth trend will slow down a little bit next year. 
Average revenue per client
Average revenue per account / client we can calculate just for the subscription revenue. The company does not divide the revenue by the type (subscription-based or one-time purchase). So the ARPA is growing 6% each year and reached $106K this year. I think that this is an average growth rate for the ARPA and therefore the company will keep it over the next several years. 
In 2014 fiscal year Apigee spent more than 89% of revenue to the marketing, that is too much for any business. So the most interesting part of Apigee's report was exactly the sales and marketing expenses: Apigee decreased the marketing expenses. However it spent around 72% of revenue, the company has a right trend of reducing such kind of expenses. 
The most surprising line from this 10-K report. Apigee reduced its cost of revenue from $27.71M (53% of revenue) in 2014 to $24.99M (36% of revenue) in 2015. And that's a good trend, the company is able to spent less, get more clients and support them. 
Summary
I think that the company is on a right way of cost optimization - Apigee reduced the sales and marketing expenses, cost of revenue and put a little bit more money into the product development. I think that Apigee has a good potential, the company performed very well this year, however, I cannot tell that this is a great opportunity. 
What do you think about such a great cost optimization?