Cisco: revenue down, net income down
UPD. Cisco Q3 Non-GAAP Earnings Per Share (EPS) beats estimates, $0.57 vs. $0.55 expected. Cisco Q3 Revenue, $12B vs. $11.97B expected
Earnings

As we can see, the overall revenue dropped 1%, net income decreased by 4%. Not that good, but the stock is up more than 5% after hours.
Earnings preview
Cisco is going to report its earnings after the closing bell. The company dominates routers and switches market, absolute leader. The company is too huge now and it's unbelievably difficult to maintain high growth rates. Analysts can't expect a lot from them now. Let's take a look at the market, their financial outlook and analysts estimates. 
Market
Cisco's switcher market share is around 56%. There is a number of companies that are following them: Huawei, HPE, Juniper and ALU. As you may have seen, Juniper reported their earnings a few weeks ago and their earnings were 13% lower than analysts expected. However, the most recent earnings for HPE (they reported in January) showed that the company exceeded the outlook by more than 5%.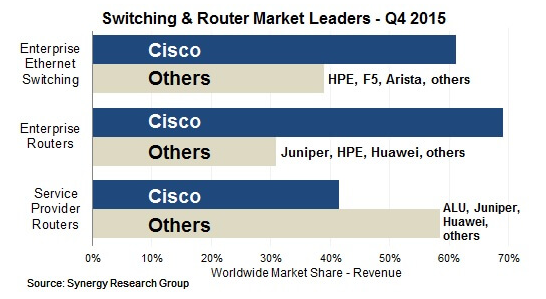 (Source: Synergy Research Group)
The market is growing 3% a year, not that fast, but still this is a multi-billion market. "Despite challenges on a variety of fronts, Cisco is successfully maintaining its position as the dominant supplier of switching and router technology with revenues about seven times the size of its nearest rival," said Jeremy Duke, Synergy Research Group's founder.
SDN is not a treat for Cisco at all and it means that the company doesn't compete with VMWare which is doing pretty well with really high revenue growth rates. So, how exactly is Application Centric Infrastructure different than SDN? One obvious difference is its implementation. Application Centric Infrastructure appears to be a network virtualization platform, done in hardware instead of software, with an application-aware network policy layer on to (Source: http://searchsecurity.techtarget.com/). 
Financials
In February, Cisco announced its Q2 FY 2016 earnings. Let's take a look at their P&L: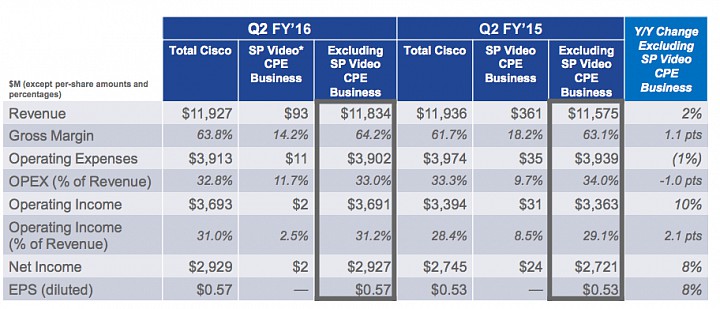 (Source: corporate presentation)
As we can see, y-o-y change in revenue is 2%, while as I've already mentioned the market grew up 3% last year. Cisco with its 56% market share is basically moving this market higher. The company significantly improved its operating income margin, which is a positive sign, moreover, their net income grew up 8%. 
Outlook
According to Financial Times, 16 analysts said that Cisco is a hold, 11 - buy and 12 - outperform. There is no sell recommendation from anybody.

The company's revenue consensus is less than 1% higher than their numbers last quarter. I assume that this more or less the most adequate forecast. The company can't grow that much, so I think that it will report in line with analysts estimates. 
Earnings
The company is going to announce the earnings in less than 10 minutes, I will write them below as soon as we get the information. The stock moved just 0.11% down today ahead of its earnings.