Exclusive: Snap Coverage Initiated At Barclays
Barclays issued a report where analysts review Snap's perspectives and find the main features why this story is completely different to Facebook.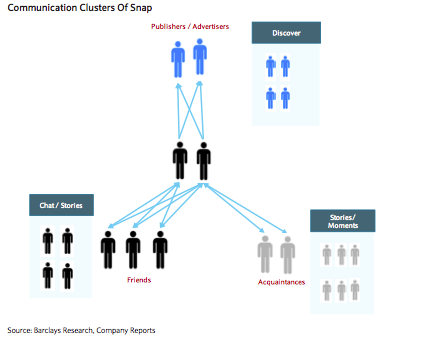 Two of Snap's biggest strengths are: 1) the high percentage of nodes that contribute content (over 60% of DAUs); and 2) the intimate nature of the connections (most users being friends in real life). Wechat is the only other app globally that can claim this stat, with 65% of its users contributing daily to Moments. 
Basically it means that crowd content generation works great. Take a look at all the social networks - key thing there now is content generation. We all remember MySpace - it was really difficult to create the content on this platform. Reddit is a great example of a company that makes content sharing a key instrument of audience growth.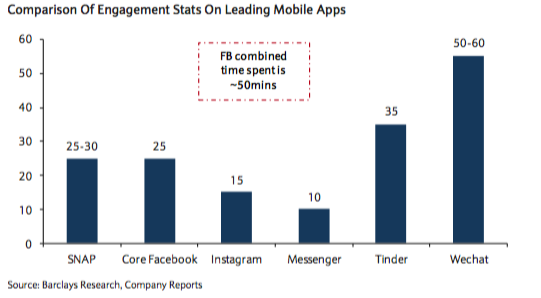 The primary risk we see around Snapchat's network structure is that it has a much higher concentration of 25 and younger users.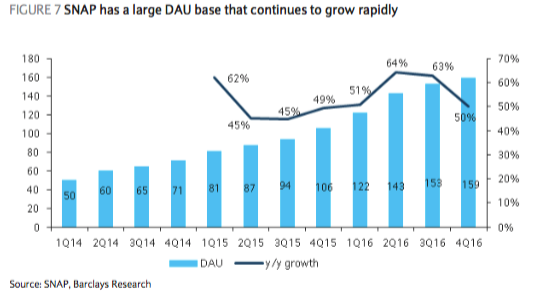 Despite Facebook copying Snap's features, 50%+ DAU growth is huge for the company that has $400M+ in revenue and plan to reach $2-3B this year:
Looking at the composition of Snap's DAU, two trends need to be pointed out: 1) the company has a high percentage of DAUs from the 25-and-under cohort, nearly 60% of the US DAU base. Hence, over half of the DAU adds are coming from 25+ 
And the most curious chart from the whole report is the following one: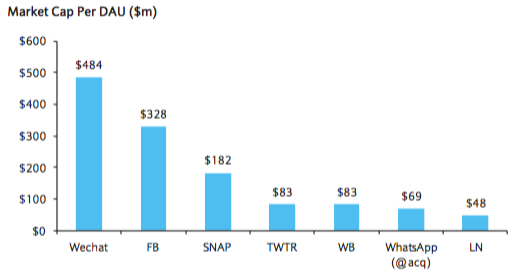 FB and Wechat has a higher market cap based on DAU. Facebook's advertising is more efficient for brands (at least now), because advertisers can measure the efficiency of this ads. Take a look at the chart again, Facebook has 2x higher Market Cap per DAU and I think all the risks associated with ads efficiency are right there. 
Thanks Barclays for a very informative and insightful report.